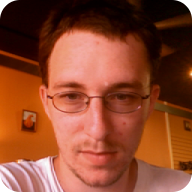 Hi there, I'm Eric Newport
Kethinov is my online pseudonym and the title of my weblog.
I'm a software developer and a popular sci-fi TV and film critic from Silicon Valley. This website is home to the various articles, reviews, editorials, and other assorted content I've authored over the years.
I'm currently working as a senior user interface engineer at PayPal where I have written code for products such as the PayPal Mobile app, the PayPal Mobile portal, PayPal Here, Mobile Express Checkout, the PayPal Security Key, and many others.
In the past I have worked for Google on GMail in 2007 and Yahoo! on Yahoo! Local also in 2007 as well as Yahoo! Messenger (writing plugins for the Windows version) in 2006.
I have a passion for Linux and free software, particularly Ubuntu and Android. My other interests include creative writing, digital art, and various forms of video gaming. When I'm not working, I spend my time working on my hobby projects, writing articles and reviews on this site, and generally living life to its fullest.
This website serves as a portfolio of my collective works, a place for me to express thoughts and ideas artistically, and as a valuable resource for the multitudes of topics I choose to cover.
My contact info
Instant messaging services
GTalk: kethinov@gmail.com
AIM: kethinov
Music I'm listening to right now
2 hours, 30 minutes ago

:

Two Steps from Hell – Moving Mountains (no choir)
2 hours, 35 minutes ago

:

The Prodigy – World's on Fire
2 hours, 39 minutes ago

:

Puscifer – Tumbleweed
3 hours, 23 minutes ago

:

Linkin Park – Final Masquerade
3 hours, 27 minutes ago

:

Linkin Park – Rebellion (feat. Daron Malakian)
3 hours, 30 minutes ago

:

Linkin Park – All For Nothing (feat. Page Hamilton)
3 hours, 33 minutes ago

:

T.I. – king
3 hours, 48 minutes ago

:

Macklemore & Ryan Lewis – Can't Hold Us (feat. Ray Dalton)
3 hours, 51 minutes ago

:

Kaki King – Great Round Burn
4 hours, 1 minute ago

:

The Hollywood Pro Sound Library – Dragon Cloud (remix)
powered by KethiLastFm by Eric Newport
See more on my Last.fm profile
...