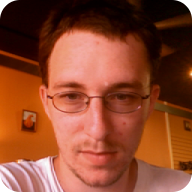 Hi there, I'm Eric Newport
Kethinov is my online pseudonym and the title of my weblog.
I'm a software developer and a popular sci-fi TV and film critic from Silicon Valley. This website is home to the various articles, reviews, editorials, and other assorted content I've authored over the years.
I'm currently working as a senior user interface engineer at PayPal where I have written code for products such as the PayPal Mobile app, the PayPal Mobile portal, PayPal Here, Mobile Express Checkout, the PayPal Security Key, and many others.
In the past I have worked for Google on GMail in 2007 and Yahoo! on Yahoo! Local also in 2007 as well as Yahoo! Messenger (writing plugins for the Windows version) in 2006.
I have a passion for Linux and free software, particularly Ubuntu and Android. My other interests include creative writing, digital art, and various forms of video gaming. When I'm not working, I spend my time working on my hobby projects, writing articles and reviews on this site, and generally living life to its fullest.
This website serves as a portfolio of my collective works, a place for me to express thoughts and ideas artistically, and as a valuable resource for the multitudes of topics I choose to cover.
My contact info
Instant messaging services
GTalk: kethinov@gmail.com
AIM: kethinov
Music I'm listening to right now
2 days, 10 hours ago

:

The Decemberists – The Island: Come and See - The Landlord's Daughter - You'll Not Feel the Drowning
2 days, 10 hours ago

:

VAST – Lady of Dreams
2 days, 10 hours ago

:

Arcade Fire – Sprawl II (Mountains Beyond Mountains)
2 days, 10 hours ago

:

Stabbing Westward – High
2 days, 11 hours ago

:

Moby – Natural Blues
2 days, 11 hours ago

:

The Roots feat. Maimouna Yousef – It Don't Feel Right
2 days, 11 hours ago

:

Bad Religion – Punk Rock Song
2 days, 11 hours ago

:

Vitamin String Quartet – Sober
2 days, 11 hours ago

:

Cold Cave – Running
2 days, 11 hours ago

:

The Crystal Method – Blunts & Robots
powered by KethiLastFm by Eric Newport
See more on my Last.fm profile
...